This is a review of the most excellent book "Hands are not for hitting" by Martine Agassi, Ph.D. c2000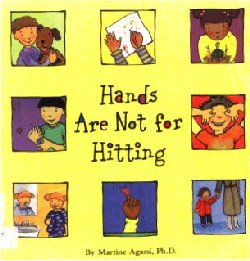 This very encouraging and positive book helps your children understand the concepts " what hands can be used for." The simple words and delightful illustrations reinforce two main themes.
Violence is never okay, and
We are all capable of warm positive actions. The book's premise, is to teach children all the constructive ways of using their hands without using violence.
This read aloud book also includes a section to help adults learn ways to provide consequences that are very helpful and positive.

This book should be a must for all families, caregivers and playgroup organisers.


Marie Dawson
Children's Librarian
Call 476-5962 or e-mail children@peclibrary.org